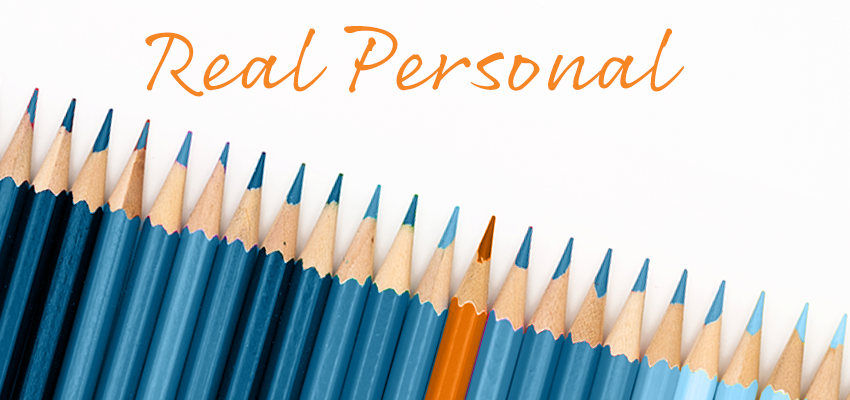 Reading Time:
3
minutes
Most of my posts are about marketing for tech companies. Here we can learn a lesson from an offending car dealership, because the principles are the same regardless of industry.
Today I received a supposedly personalized letter from a local car dealership. I've purchased a new car from that same dealership in the past.
The number 10 envelope appeared to be handwritten. There was no indication the letter was from a company. Inside, the letter with fake handwriting stated, "John, Still have your 2011 Malibu? We need quality, pre-owned vehicles…"
I received this letter on February 22, 2019.
I'm familiar with this marketing tactic. The hope is that I will call and tell a salesperson I no longer have that particular car, but I have another car I'm hoping to get rid of. That may have worked in 1987, but today's consumer is smarter than that. So are buyers of technology.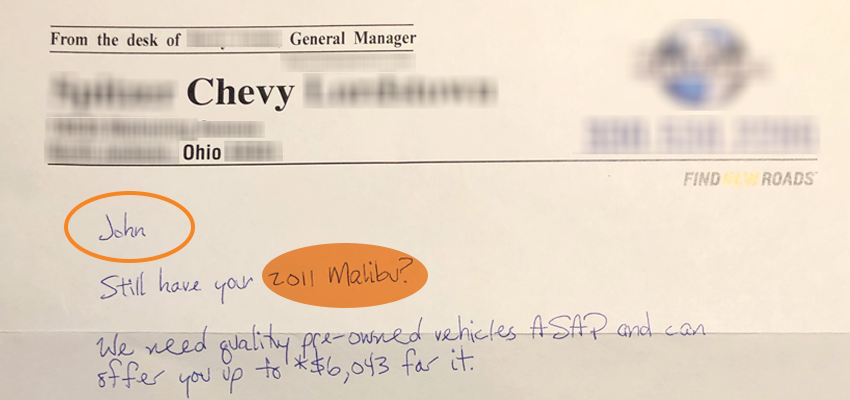 Personalized Marketing Should Actually be Personal
Marketing needs to be personalized, and all companies are more aware than ever of the demand for this. Personalized marketing in the past may have been adding my first name to a form letter and using a handwriting font. To use that tactic today is shortsighted, and I'd even say disrespectful to the buyer. I haven't had that car since 2013, for the record.
The offending car dealership has a record, somewhere, that I am eligible for a GM employee discount, thanks to my father-in-law. In fact, since there has been a GM production plant in my area since 1966, a large number of people in the region have been eligible for that same discount. It's important to note that the discount is applied the same no matter which dealership sells you the car, if they are honest. In fact, good sales people over the years have advised buyers with the discount to verify they're being given an accurate discount. Once you find the car you like, just get the VIN number and call any other dealership in the same county (because of the tax rate). The total sale price, or lease payment, should be the exact same to the penny. I've done it. 
So given that benefit, it doesn't matter where I buy the car from, because the price is the same regardless of the dealership. Personalized marketing would acknowledge my discount eligibility and offer to give me great service in a way other dealerships do not.
I leased a new car for myself in December, and one for my wife in February. The car salesman, not from this offending dealership, delivered each car to my house both times, and drove back the cars we were leasing. He handled the majority of the paperwork in his own office and brought to our home the documents for us to review and sign. He eliminated the three to four hour process all car buyers find miserable and saved us hours of our day, twice. That's personalized service.
Knowing My Name Isn't That Personal
We've all heard how much people love to hear their own name. That's true. Personalized marketing goes beyond using a customer's name. Further, just as getting a person's name wrong can make your marketing backfire, so can stating information that's wrong, Worse, discussing information that is outdated makes buyers question your competence.
Knowing someone's name is the first step personalization. There are hundreds, if not thousands, of steps in delivering personalized marketing. Since I previously purchased a car from that dealership with outdated marketing, they should have enough data to make smarter marketing decisions.
A more effective personalized letter would have said something like this, "John, we know you're eligible for a GM employee discount. You can buy a car anywhere. But if you choose our dealership, we offer A, B, and C to make your car buying experience faster and easier. We haven't had the pleasure of serving you since you bought your 2011 Malibu, so we'd like to offer you X just to come in and take a test drive."
Listening, and Data, are at the Heart of Personalized Marketing
Tech companies are challenged with personalizing their marketing. If your company has five solutions, then sales, marketing and IT should be working together to grow and refine your database. Then you can accurately personalize marketing campaigns. The sales team probably knows that a certain company will never buy Solution B from you. Maybe the CEO's brother has a similar solution. Why send that CEO campaigns about Solution B? You're only putting up walls between you and your prospects.
Even smaller tech companies have enough data to build a more personalized marketing experience. Should you use a prospect's first name? Yes, provided you're aware he goes by Bob and never Robert. If you don't have enough accurate data to personalize a campaign, it's best not to feign a relationship that doesn't exist. It will only alienate your customer.
So to recap personalized marketing pitfalls to avoid:
1. Be genuine, and don't try to trick people
2. Offer real value
3. Be accurate, and if you can't be, don't try too hard to personalize
All buyers are people. Our demand for personalized marketing grows every day, but the demand for genuine relationships and interaction has always been high.